Kuching motorists can now purchase credits at all 33 KCPS parking coupon booths to pay for their over-parking notices and compounds online, 24/7 by downloading KCPS mobile apps or using the web at online.kcps.com.my. Purchase of credits using credit cards and online banking are available through the web at online.kcps.com.my only. There will be a convenience charge of 3% by a third party payment gateway for those using credit card or online banking to purchase credits.
Motorists can purchase credits as little as RM5.00, RM10.00 and so forth at all KCPS parking booths and the system will generate a receipt with a 16 digits number. The motorist will then use the mobile apps or the web to register one time only with their email and a log-in password. After log in, motorists' go to the reload screen to reload the credits with the 16 digits provided in the receipt to start making payments online. For those using credit card or online banking, credits will be auto reloaded into their account.
Mobile Application Screenshots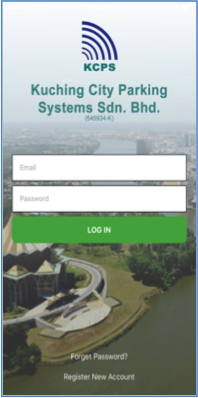 2. On the front page, tap on "Register New Account". Email Address is required as the username and creates your password. Confirmation registration will send to the registered user's email.3. After registration, log in with the username and password.
Purchase of credits using credit cards and online banking